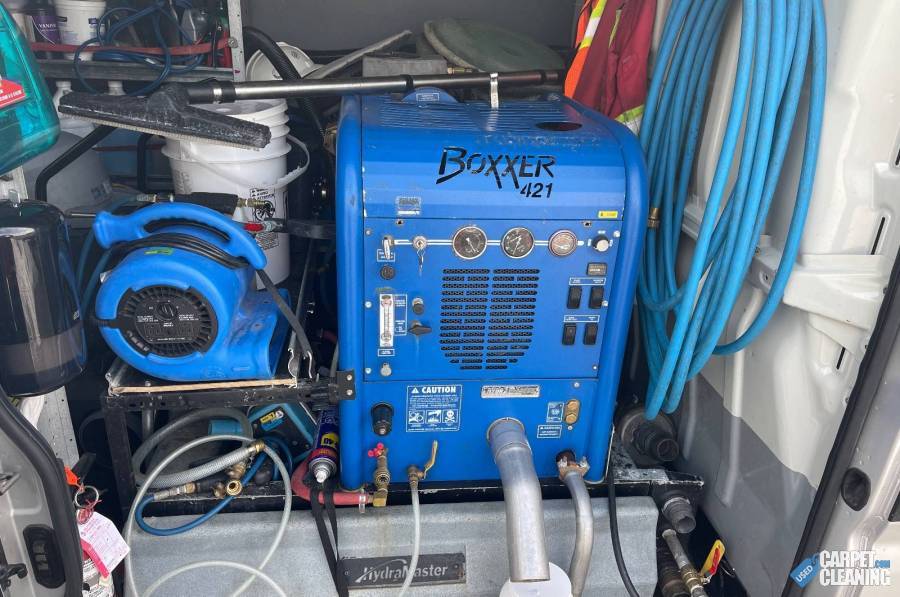 Please read the entire post before asking followup questions.

We are selling the following items:
- Boxxer 421 with 7224 hours with matching recvoery tank
- 85 Gallon Rotomolded fresh water tank
- multiple hoses (sorry don't have mesaurments, but both high presure and vacuum hoses)
- metal hose reels

Recent repairs on the truck mount
- A few blow hoses
- New heat exchanger about 2 years ago (500 hours ago)
- New pump about 2 years ago (500 hours ago)
- Regular lubricant changes done on it

The background:
We bought this unit about 4 years ago from aonther company installed in a van. The van got old and we bought a new van and decided to get a new truck mount to match it, leaving this machine in storage for 1.5 years. This truck mount will be available Sept 21-25 only due to being in long time storage at the moment.

PRICE HAS BEEN ADJUSTED TO AS IS CONDITION. Just the hose reels and water tank is worth more than the asking price.

Ideal for installing in an older van or using for parts.

Conditions of sale:
- Must be picked up in Vernon BC, Canada detween Sept 21-25
- Cash or etransfer accepted

Accept text/SMS messages?
Yes
Solution hose
Vacuum hose
Hose reel
Solution reel
Wand included
Current rating:

5

Total votes:

1
Please enter characters depicted on the image.
Fill in the form and click "Calculate"