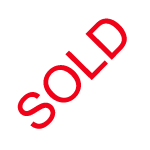 Low hours. We're a tile cleaning/contracting company that used to do a little carpet cleaning also. No longer cleaning carpets.

This high-powered wand features six vacuum slots and six spray jets that rotate at 250 RPM, producing 1,500 multi-directional cleaning passes per minute.

Using the Rotovac is easy: simply push it along the floor much the same way you would a standard upright vacuum cleaner. With every back-and-forth pass, the Rotovac makes hundreds of multi-directional cleaning passes, cleaning the carpet fibers from all sides, resulting in a better, more thorough clean.

The patented rotary jet extraction cleaning heads are powered by dual high-torque motors, which provide all the muscle and do all the work for you. There's no need to bear down and scrub the floor like you would with a manual wand.

The Rotovac is highly maneuverable and only weighs 38 lbs. You can easily push it back and forth with one hand while sipping your coffee from the other!

The Rotovac draws just 5 amps, so there's no risk of it blowing a typical 15-amp household circuit. It's also compatible with any portable or truck mount system, so businesses of any size can benefit from its exceptional cleaning performance.
Please enter characters depicted on the image.